Though the few hours that led to Preslee's death were horrific, once she passed, we knew she was at peace. I was so grateful she wasn't suffering anymore, for it had been excruciating to watch. Pat and I were exhausted, both emotionally and physically. We hadn't eaten in over 24 hours, and hadn't slept in about a week.
The little time we, and our family spent in that hospital room following Preslee's passing, will never be forgotten. It was such a personal and sacred experience.
Preslee passed away wrapped in her favorite blanket in my arms, and only wearing a diaper. After I stared at every feature on her perfect little body one last time, they had me place her body on a gurney. The nurse brought in a little blue and green plaid dress for us to dress her in. My sil came in and helped us dress her and do her hair.
Then we left...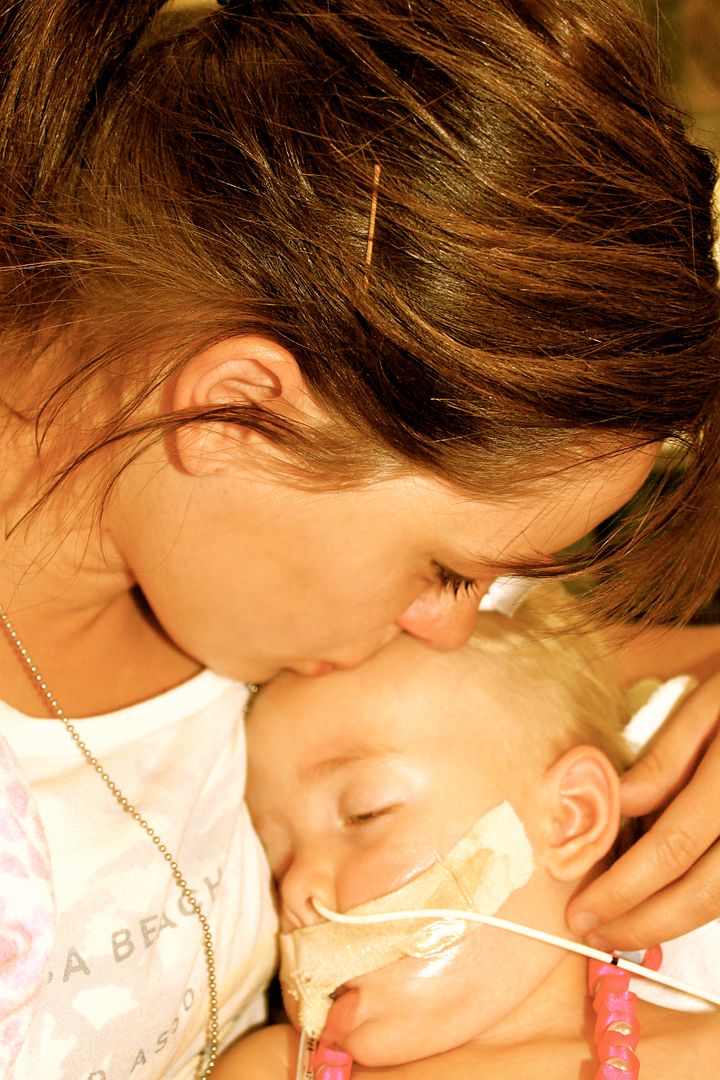 Just hours before she passed
I would have never thought about dressing her body, but it was exactly what we needed.
It was therapeutic, and gave us a form of closure. Those last minutes we had with her were truly sacred and was honestly the most spiritual experience of my life.
Have you ever thought about leaving your child's body behind as you walk out of the hospital? Difficult doesn't even begin to describe it. That body had meant everything to us for the past 18 months.
I've often thought about that little dress and been so grateful for the person who donated it, along with the memory box we were given.
Recently I was contacted by a mom who has experienced some losses of her own. She's working on a project to gather supplies to donate things like clothes, memory boxes, matching mother/daughter bracelets, and more to hospitals.
I think what she is doing is beautiful. I couldn't help but pass this information along, because I know her donations will make an enormous impact on other people's lives as they find themselves in a heartbreaking situation.
If you are interested in helping, here is her site.
I'm now turning off the computer, grabbing Ledger and spending every waking moment I can with him today. Eternally grateful to be able to hold him in my arms.