I love holidays. I do. Give me any reason to bake, decorate, go full out, and I will. Which means Valentines Day is a day that I
love
. I started it off February 1st with 14 days of Valentines. I give all credit to this site. Thank you Pinterest.
Pat and I have spent the last few months watching six seasons of Lost on Netflix. Seriously, we were obsessed. When getting close to the final season, my friend Abbie, sent me a link to the Dating Divas. They had a whole date night for Lost. I couldn't believe how full out this girl went! I hadn't planned to do it all, but in the end, I just couldn't resist. But I was grateful she put all the work in, all I had to do was push print. :)
* For all those who read this and think, "Really?" Well I thought my friend Amber said it best, "Valentine's day wasn't meant to be a day to say I love you once a year. It's an excuse for everyone to be extra luvvy duvvy and not get laughed at." Exactly!
I sent Pat off that day with an Airplane ticket to the final episode of Lost in his lunch.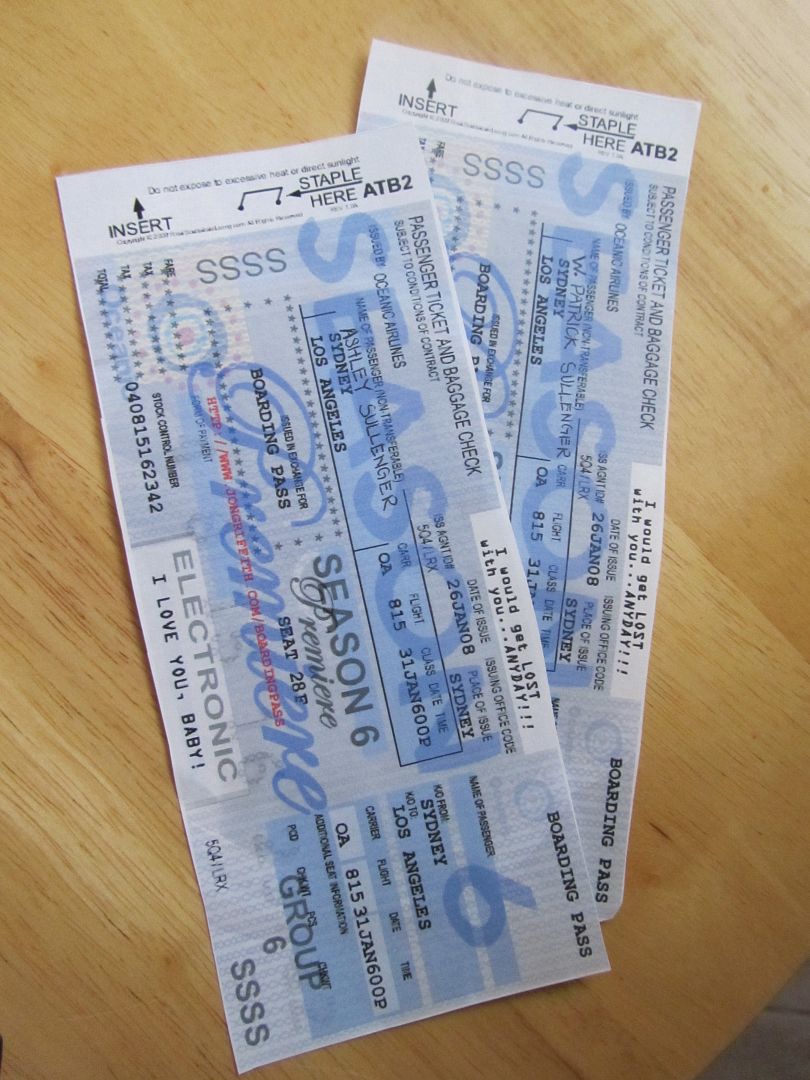 Then it was on. I did a little bit of cleaning, cooking, baking, a lot of printing and cutting, some ironing, blowing up an air mattress, and a little bit of playing with this cute Lovebug.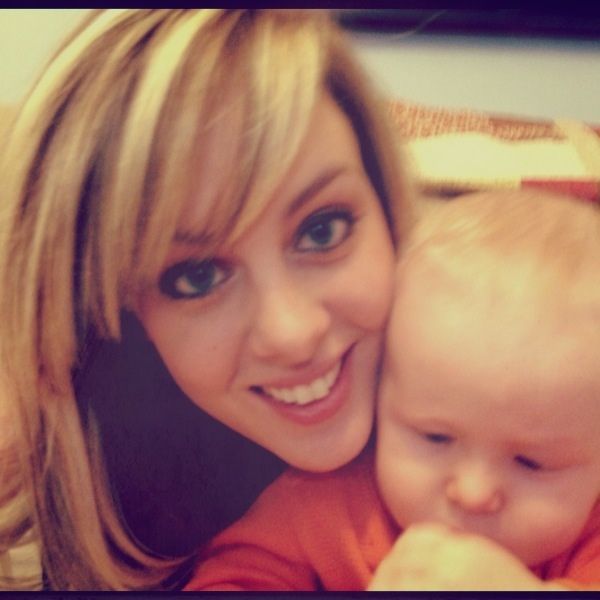 I finished just in time. When Pat walked in, all I could hear was his laugh. (If you haven't guessed, I absolutely love when he laughs)
I had these up all over the room.
| | |
| --- | --- |
| | |
The suitcase, just for the affect. Air mattress served as a raft.
On the menu that night:
Homemade Cafe Rio salad for me, burrito for Pat.
I can't get enough of the dressing.
Pork Barbacoa
Homemade salsa
Homemade authentic guacamole
Cilantro lime rice
It was the 2nd time in our marriage that I bought soda. I really splurged. :)
Snicker's cake for dessert. Yum!
I was most excited about the plane crash cake.
| | |
| --- | --- |
| | |
For all you Lost fans, they had Dharma print-offs for EVERYTHING!
We ate until we were stuffed. At 7:00 PM, Pat went over to the church to do some scouting for the boys in Young Men's.
By 8:30 PM we were ready to start watching. We put on these awesome PJ's. (I couldn't resist, Pat couldn't quit laughing when he saw them)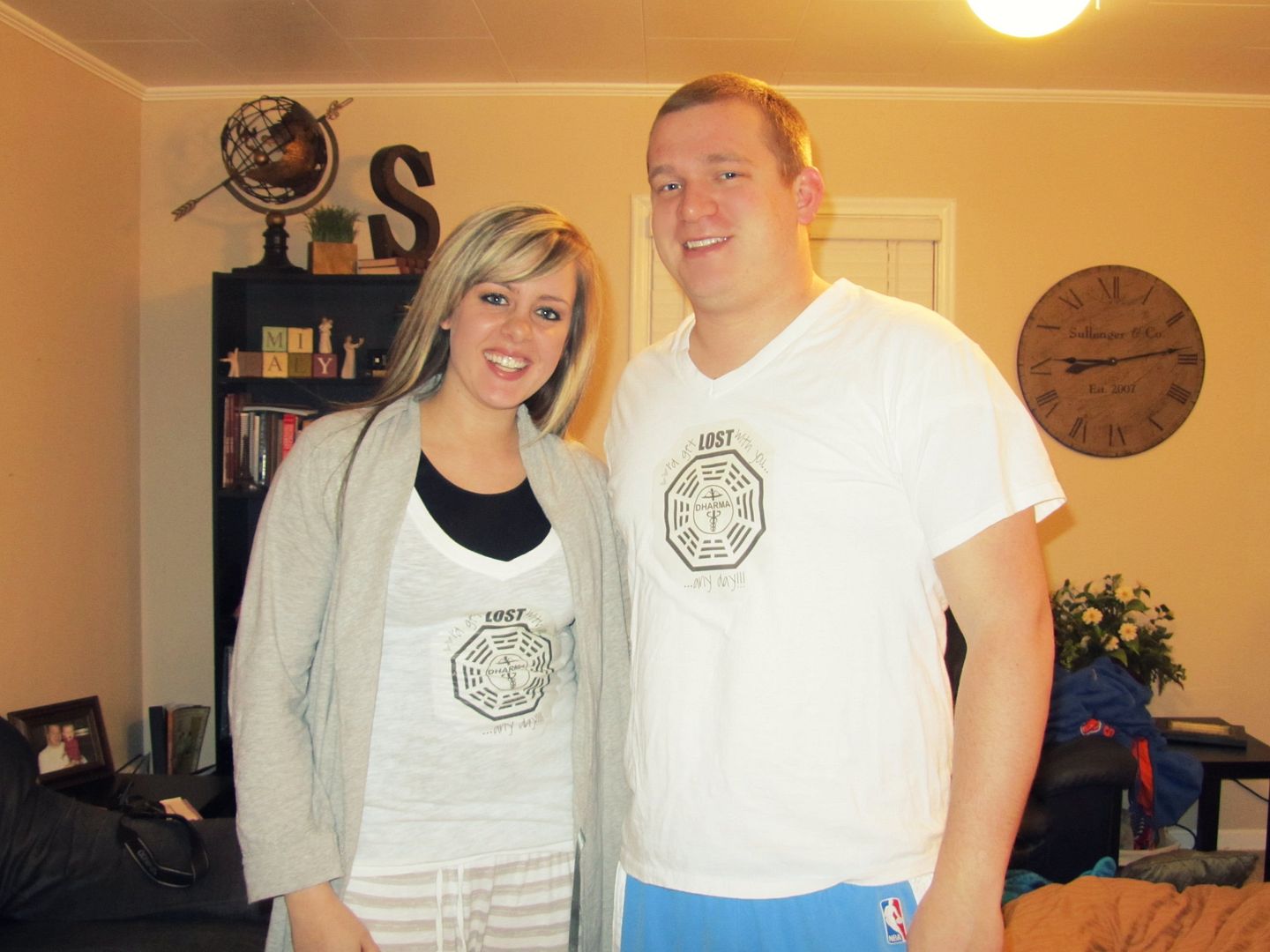 We laid down on the raft/air mattress and watched the last three episodes of the series. It was a fun night, and Pat surprised me with Florence Chocolates, I was thrilled. I definitely don't need to eat an entire pound of chocolates, I'm still working on losing the last little bit of baby weight, but I'll be sure to enjoy every single chocolate in the box.
I have to give credit to this little guy who is teething, ornery, and clingy for putting up with a busy mom all day long. His new thing is to stand up in crib, and then he can't figure out how to lay back down which makes him lose it. It makes nap times nearly impossible. I couldn't help snap a picture, which he didn't appreciate too much as you can see.
Next year it's Pat's turn to plan... I told him I just increased our expectations. He better start planning.