We are having twins!!! I still have to pinch myself, it doesn't quite seem real!
On Monday, I went in for my 9 wk appointment. I dropped Ledger off at a friend's house, and Pat was in class. I was ready to get an official due date, and some meds for nausea.
As the ultrasound tech came in, she asked how I was feeling. I explained that I have been sooo sick, twice as sick as my other pregnancies. She said, "Twice as sick? Maybe you're having twins." I don't remember my exact response, but something like, "Oh, no, that's the last thing we could handle." As soon as I finished saying that, the screen came on, and the tech started giggling. She giggled and giggled, and then said,
"No!" (I really thought she was teasing me)
"You're kidding me, your messing with me!"
"No, I'm not, there really are two babies!" The longer I stared at the screen, I decided she probably couldn't fake the image of two babies with all my info above it, so I finally believed her.
"OH MY GOSH! OH MY GOSH! ARE YOU SERIOUS? NO WAY! PAT IS GOING TO DIE!"
Then I became an instant mess as I suddenly felt so many different emotions that I started crying and laughing all at the same time.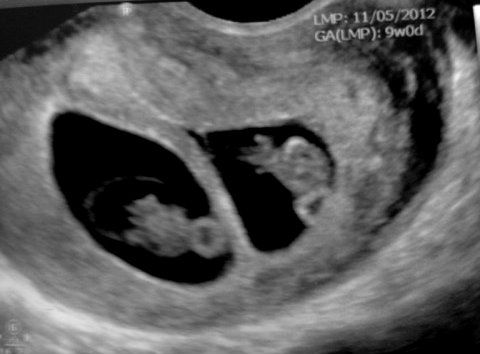 By this point, I kept staring at the ceiling, and then looking back at the screen to see if the picture on the screen had changed, I kept telling myself she was kidding. She continued to giggle the entire time, and repeatedly told me I was having twins. I panicked. Two babies? Three kids 25 months apart? Pat wasn't even positive we were ready for another one right now, let alone two! (He's been much more calm than I have) I then proceeded to list off all the reasons I didn't think we were fit to have twins to the tech. For example, We only have two bedrooms! My husband is still in school! I don't think we can fit 3 kids in our small cars! She kept reassuring me, told me my due date was moved back a week, and then left so I could change.
When I walked out of the room, many of the nurses and Dr. M were all in the room in front of me working. Someone looked up and saw my face and asked if I was ok. I replied, "I have two babies in my stomach." haha They all congratulated me, and while I panicked, one of the sweet nurses told me, we could do it, especially with their whole team behind us.
Dr. M then came in and discussed with me what to expect. To be honest, I was only half listening, I was just staring at the ultrasound pictures. He explained my appointments will be more frequent with ultrasounds. Having two babies, means double the hormones, which explains why I've been extremely sick and tired. He explained that the babies are classified as Di Di twins. They each have their own sac and placenta which is the best and healthiest form of twins. (YAY!) They checked both ovaries to see if both produced eggs, and only one side did. So there is a chance that they can be identical, and that would mean the egg split between day 1-3. Or they could be fraternal. We can't wait to find out. As he continued to explain things, I suddenly blurted out-
"How am I going to fit two babies in my stomach? I'm huge with just one!" He smiled, and calmly replied, "It always seems to work out, you'll be able to do it."
37 weeks is considered full term with twins. So there's a good chance I'll deliver in July. Many have asked what we are hoping for with gender. I'm just hoping for at least one girl. It would be fun to have a girl again :) And the thought of 3 boys 25 months apart seems a little wild to me. But if it happens, I'll gladly except it.
We weren't planning on announcing we were pregnant for at least another month, but once we learned there are two babies, we immediately called family, and before we knew, it seemed like the whole world knew. So we just went with it. Hopefully everything will continue to run smoothly.
I've been so sick, that have struggled to accomplish anything. Ledger has been my first priority, and then I try to keep our house in order… that one isn't going so well. I've struggled to blog as often, and I apologize to all those waiting for a response via e-mail. I'm so terribly behind on writing people back, but I'll get to it, I promise!
We are now so so excited. I know I panicked in the office, but it seems like I got it out of my system, and am absolutely thrilled now. (I'm still wondering how I'm going to fit two inside of me) Thank you for all of your support and encouragement. Our little family, (soon to be not so little) is incredibly blessed. Having four kids by the age of 25 is absolutely crazy! Once again, it proves that we don't have control over much, and Pat and I are learning to once again jump on that roller coaster called life and go with it. Just before I went in to the Dr office, I was thinking about how blessed we were going to be to experience two kids together, and I can't help but be so very grateful to experience 3 together. Even though we would have had four, I can't help but look at this as a huge blessing from our Heavenly Father.
We certainly can't wait to meet these little ones.