I keep r
eceiving emails asking how to help a close friend or family member after someone passes away. Here are some ways we were helped with the viewing and funeral.
We are still so grateful for everyone who helped us in anyway. So if I forget something, please don't be offended :)
First, who knew you had to book the person who digs the grave and pay for it? (Probably a bunch of you, something like this had just never crossed our minds) My Grandparents had 3 extra plots and gave them to us and paid for everything at the cemetery. So sweet of them. My parents also drove us around Rexburg to pick which cemetery we wanted to bury Preslee in.
My sil made a slide show for the viewing. Also, I have no idea if anyone even heard it, but family made a playlist to play. We didn't know if that many people would come, so I was afraid of awkward silence.
On the day of the viewing, my friend Candee did my hair, putting highlights in and everything. It was a nice escape for me. Looking back, it really calmed me down.
One of the most difficult things for me was dressing Preslee's body. I had no idea how quickly a body changes after death. (I still have all 4 grandparents alive, I had never really experienced death) Luckily my mom came with us to help. I didn't do much, pretty much just cried, but I was so grateful for my mom to be able to take over.
My sil bought us this dress. It was made in the early 1900's and later found in a trunk in England.
Pat and I laugh about this now, but when we went to the florist to order a spray for the casket, we also ordered flowers ourselves, in fear that she wouldn't have any. We weren't sure if very many people would come because she was so young. (Boy were we wrong, the support was incredible) We were shocked when we walked in that night with all the support and flowers that were sent. We didn't even know which one was our bouquet amongst all the other ones. We were so grateful to all those who sent flowers.
Some people also sent nice fake arrangements, and we were able to distribute many of them out to our family members. We still have a few of them up in our house. It might sound strange, but I love the quiet reminders we have of Preslee without others really knowing.
Some of my aunts and uncles donated money towards frames instead of flowers. I thought this was really neat. My aunts and cousins decorated the funeral home for the evening. This was a relief to me. I had no desire to even think about doing this.
| | |
| --- | --- |
| | |
| | |
| --- | --- |
| | |
We had all 3 sets of parents stand in the viewing line with us the night before. We were grateful when Pat's stepbrother Wyatt showed up with a big case of bottled water. I would have never thought about getting thirsty, but after standing in line for over 3 hours we certainly did.
Pat's brother Kash, gave the life sketch. Later his wife sent a small book with his talk and pictures of Preslee inside. I love that we have it. Also, my Grandpa Wightman gave an incredible talk at the funeral which taught wonderful doctrine. Afterward, my brother took the time to listen to the recording and type it up so we could reread it. I've honestly read it quite a few times.
Dorise and Terry's neighbors dropped off food that entire week, but I mainly remember it the night of the viewing. I hadn't eaten anything all day and was grateful it was waiting for us that night.
My sil's took pictures, the very last thing on my mind. But it's something I really appreciated.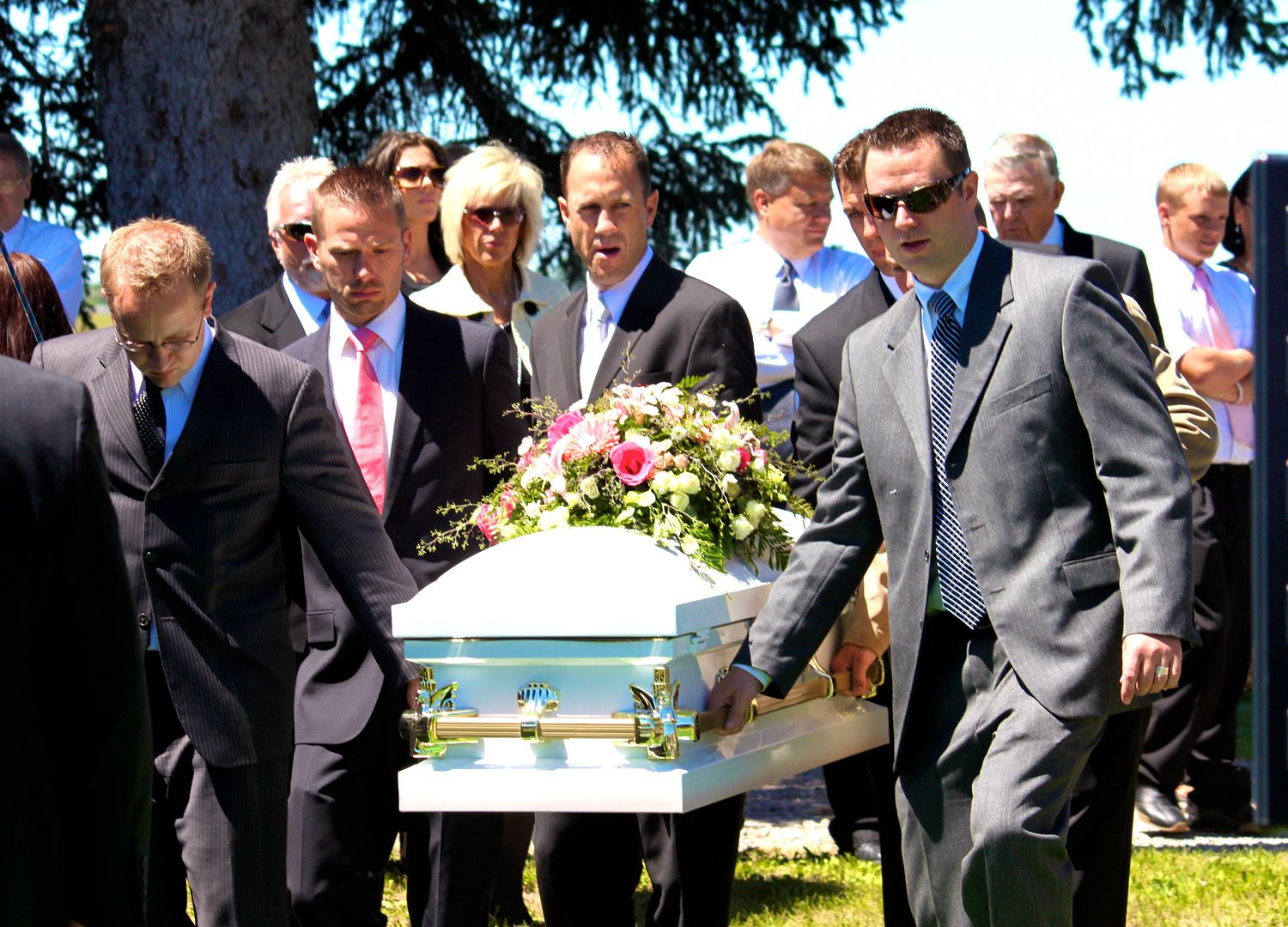 My aunt and uncle brought so many Gerber daisy's, the same colors that were in Preslee's room for everyone to place on the casket. I loved this, it was so thoughtful.
I could go on and on with more, but like I've said before, anything you do will be appreciated. Hope this helps just a little.