I've been surprised how little I knew about grieving. I think grieving is something most people don't understand or want to study until they are forced to experience it for themselves. Therefore, many assumptions are made and society tells those grieving how to deal or cope with their loss. But what I've come to understand is society is often far off and those grieving tend to stay quiet. Why is this? Why are we so scared to say anything? I find myself doing the same thing-staying quiet. (Unless you are Patrick, my parents, or my friend Candee, you hear almost everything I'm thinking) It seems almost everyone I've talked to who has experienced a major loss feels the same way, but the rest of the world would never know it with how quiet most of us stay.
I'm embarrassed to admit this, but in the past I remember thinking to myself, "When are they going to move on? They have to get over it!" (One of the many misconceptions I once had) Now I realize I'll never just move on or get over it. I've learned it's a process. Its a process of learning how to cope with the many different situations I find myself in.
I'm learning how to hold tears back while in public. I'm learning how to not panic when it hits me that my daughter is gone and there is nothing I can do to bring her back. I'm learning how to react better to comments that hurt/offend me. I'm learning how to respond to moms who complain about their kids and don't understand how blessed they really are to have their children. I'm learning how to handle the pain. I'm learning what Pat needs from his wife to help him through his most difficult days.
But most of all I'm learning what my daughter sacrificed to teach me. I'm learning she has put me on a different path in life, and with the help of our Savior I have the potential to become a better person. I'm learning to seek out the truth, I've learned there are so many unknown and available principles ready to be found, we just have to put a little effort into finding them. I'm learning how much our Heavenly Father and Savior really do care for each of us. I'm learning prayers are most often answered through anyone who will listen and then act upon the promptings.
And this is what I've learned from another mom who also lost her child, she shared it from the Ensign-
"When someone has an ailment or an illness and they are healed as the result of a blessing, their faith is being strengthened. But for those who aren't healed but continue faithful, their faith is being perfected. The first is a faith-promoting experience. The second is a faith-perfecting experience."
Here it is again, it seems like everything I study continues to point to the same thing I learned from finding a binky in a closet in the
binky post
. Whether I like it or not it's time to grow. I think in the end I'll understand. Hopefully I'll be proud when I look back and see the growth. In the mean time I just have to remember that I can do hard things and be grateful for all that I have- an eternal family.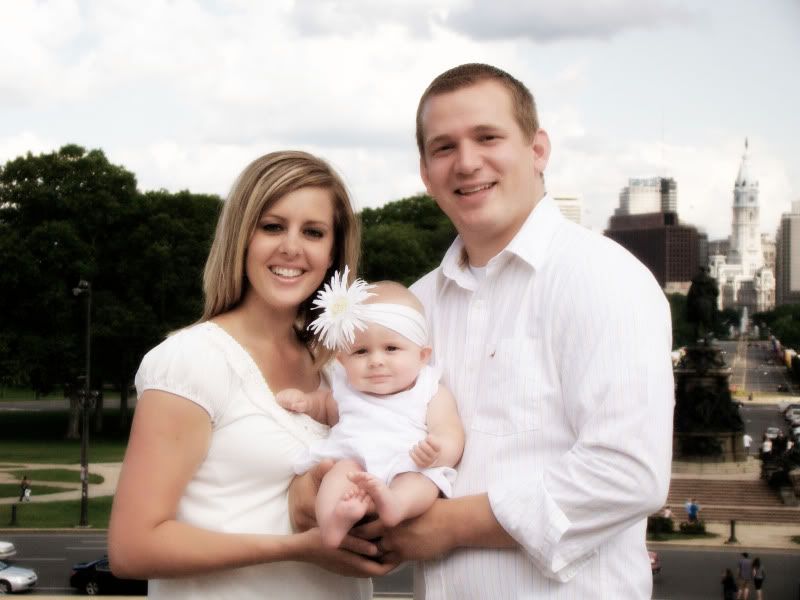 Philadelphia 2009