I know I'm jumping the gun a little bit, but I can't help it, I'm a planner. Last week was my niece Sophie's 2nd Birthday. Only 2 months apart, Pres and Soph were the best of friends. Every time we see Sophie, she asks where Preslee is. One time she got so frustrated she brought me a picture of her and anxiously asked, "Where Pres go?"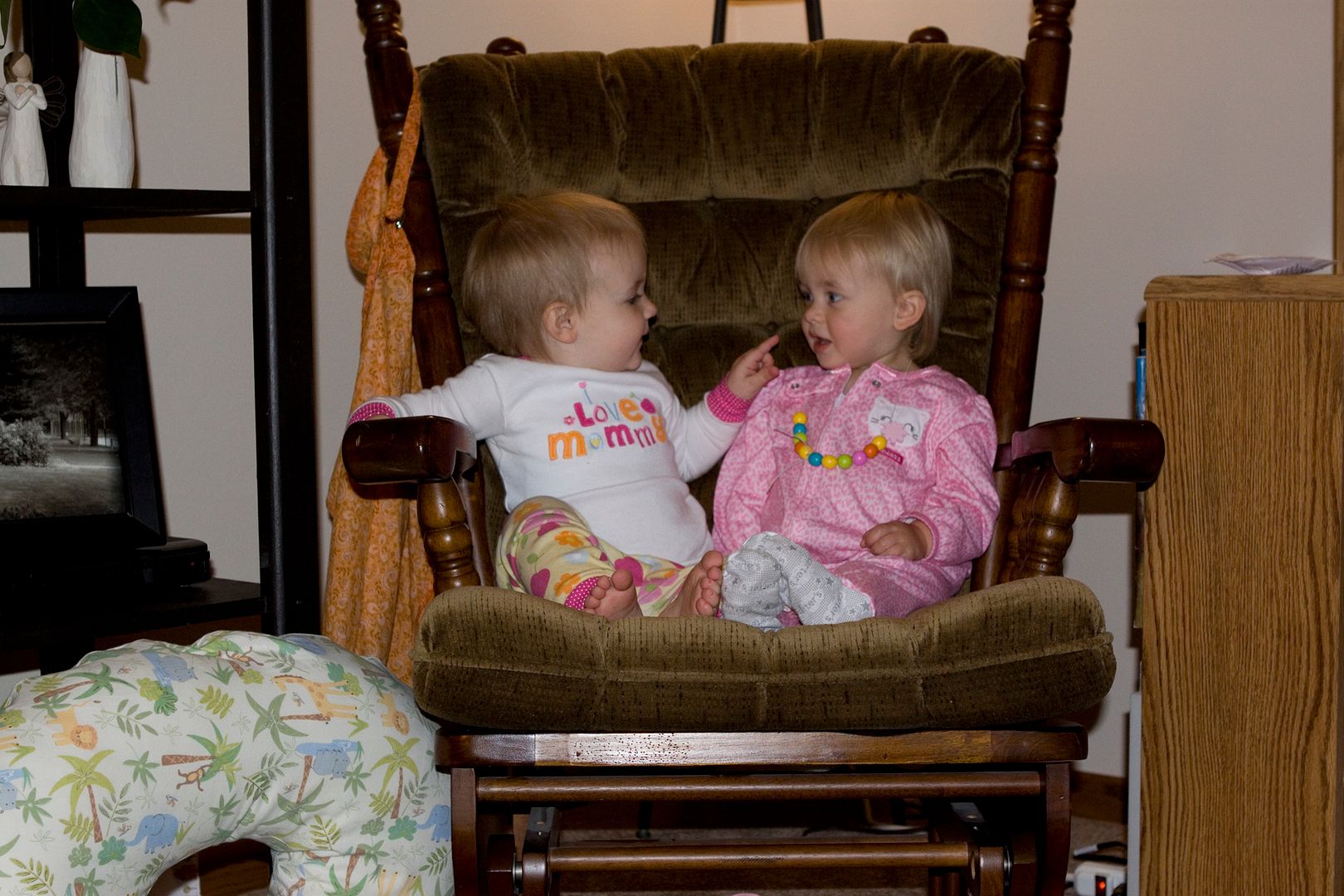 Even though Pat and I didn't make it to her Birthday party, we couldn't help but think about Preslee's Birthday coming up in December. Just 8 days before Christmas.
Like I said, I'm anything but a procrastinator. In June I was driving past a garage sale and spotted something great. I quickly turned around, grabbed Preslee from the car and set her down on the grass. Preslee immediately saw what I had, and sprinted to it. It was an Elmo play kitchen. All the gadgets made noises and Elmo even talked. She was in
love
, her eyes were shining. It was brand new, and I bought it for a steal of a deal, only $30. A man kindly helped me load it, and it barely fit in my alero. Preslee stared at it with a grin the entire way home. I put Preslee down for a nap and hid the little kitchen in a closet. Pat teased me endlessly that night, he couldn't believe I bought her Birthday present in July. He teased me even more because of how excited I was to give it to her. He told me to forget about December and give it to her now. Part of me wishes I had...
I remember sitting in PCMC when we realized Preslee only had a few hours left on earth with us. I held her close wrapped in her little pink blanket, trying to memorize every perfect feature on her body. The pain was overwhelming, the fear of saying goodbye was too much to bare. I couldn't help but think of all the dreams I had for her, for us, and for our family. I felt them slipping away. Then my thoughts turned to the Elmo kitchen. I asked my dad to have someone take it away before we got home. I couldn't stand the thought of never giving it to her.
So Pat and I have been thinking, what do we do for Pres on her Birthday? How are we going to make it through the day? I want to do something that would mean something to her.
I feel one thing Preslee taught me was the power of serving others. So, I want to
Pay It Forward.
Primary Children's Hospital will forever be close to our hearts. When I think back to that difficult time just a few months ago, many of you were there for us. From the hundreds of comments we received, we knew we had support. I've often wondered what it would have been like without all of you?
After talking with my friend Chelsea who has also experienced life in the PICU with her little boy Kayden, we realized how we both want to give back. For Preslee's present, we want to put together a basket for parents in the PICU. Hopefully it will help them be able to stay by their child's side. So many families arrive due to an accident and don't have anything when they get there. Luckily we were surrounded by family who took care of our every need. But many families don't have that help. The fact that Preslee was never left alone was the most comforting gift we could have asked for. Family members took the night shifts and sent us to a hotel to get sleep. But many of the parents have to live at the hospital. If they're lucky they get a tiny room with one single bed. The last thing I would have wanted to do was drive to Walmart and leave Preslee's side.
Chelsea has been in contact with PCMC and there are
42
rooms in the PICU. Our goal is to have a basket for every single one of them. I think we can do it, but we're going to need help. A lot of help.
As of right now we're waiting to hear back from PCMC, with what items are allowed to be place in the baskets. Once we find out, we'll let you know. We'll need help with donations, items like granola bars or fleece blankets. We'll also need help putting the baskets together.
So I ask you, if Preslee has touched your life in anyway,
Pay It Forward
. Think how different the world would be if everyone served just one person. I don't think there is anything better that we could do to celebrate her Birthday. Hopefully we'll see many of you on that day making a difference.
The Sullengers and Beckstrands