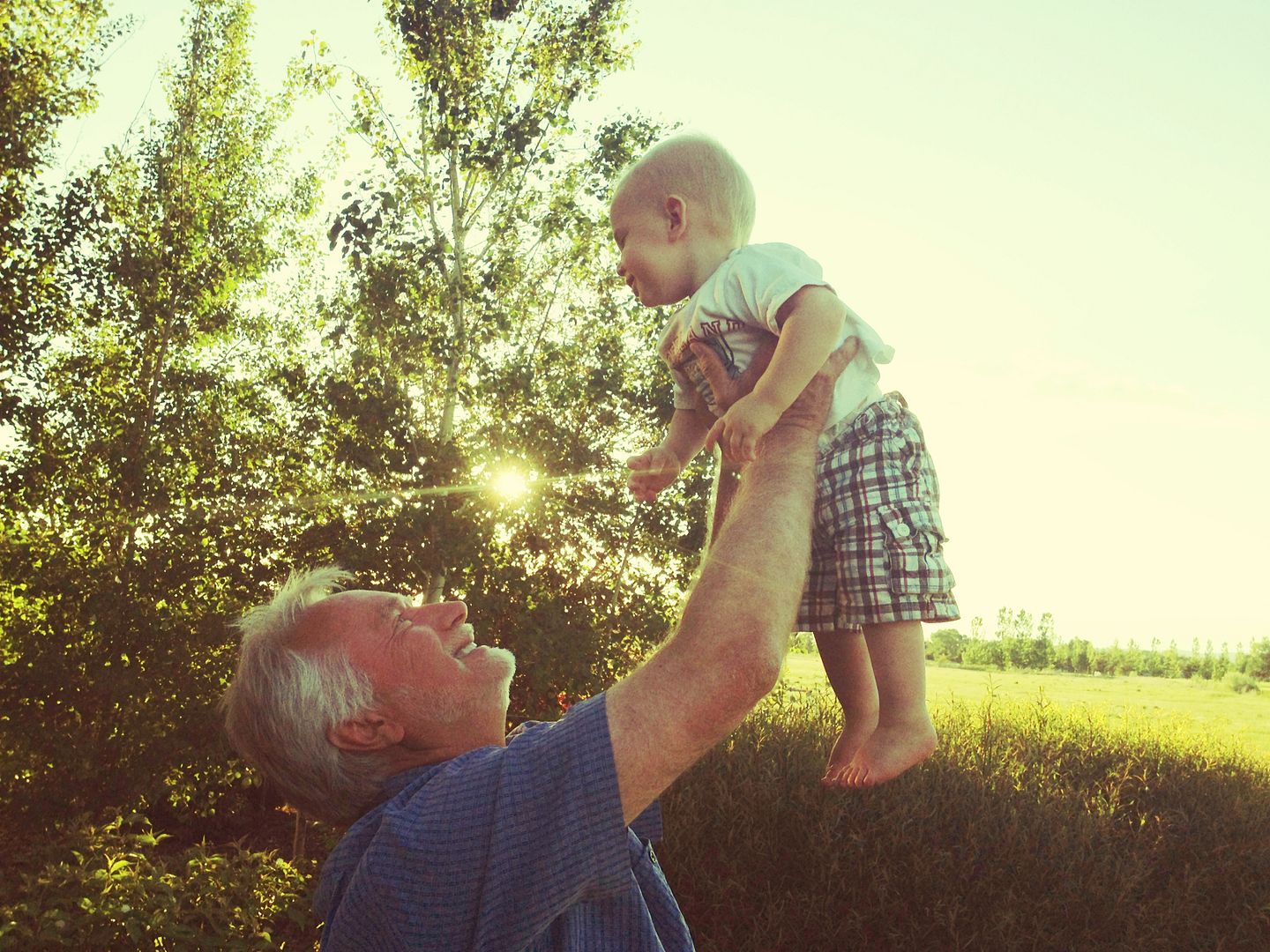 (Ledger loves his Grandpa Sullenger)
As a kid, I spent many hot summer days floating on inner tubes down different canals. They were a big part of my summers, along with floating the Snake River behind my house. I practically lived in the water.
Now, because of Preslee's experience, even the thought of a canal makes me sick. Only once have I walked out to the edge of my in-laws yard since the accident. I just can't seem to handle it.
The canal lies between the house and a golf course. Last year when Pat and I went golfing, I panicked as we played the 13th hole, I guess you could say I had an anxiety attack and cried until we went home. I hate when we drive the golf cart over the bridge, and will do anything to go clear around on the road while going back and forth. My natural instinct is to never allow Ledger outside while we're there, but after keeping him inside last Thursday, and watching him stare at his cousin playing on the patio, I realized I can't do this to him forever. He can't be a 12 yr old being told he can't go outside...
Ugh.
I wasn't sure why, but last week, I felt as if something was pushing me to run on my old running path - to the lake, around, and back. The last time I ran on that road, I was pushing Preslee in her stroller. It wasn't until I was running that I understood why I've avoided running there, I came to realize, deep down I knew I would have to run over the canal. I knew I would have to look at it. The canal runs from my in-laws, under the highway, and to the field where she was found, just a ways down from where I was running that day. I've never had anyone show me the exact spot where she was found, I don't really want to know.
Once again I thought about the phrase, "I can do hard things" as I ran across the bridge and over the canal. I couldn't help but notice the very high and fast moving water. I ran a gruesome 2 more miles thinking about what my daughter's body endured that day. As soon as I crossed that bridge on the way back, I ignored the fact I was running my very best time, and stopped in front of every cow, bird, dog, and cat we came across and pointed them out to Ledger.
While he grinned at the cows, and I was crouched down next to him signing their name, I couldn't help but feel the love of two kids radiating towards their mom.
D&C 42:46 And it shall come to pass that those who die in me shall not taste of death, for it shall be sweet unto them.
In the hospital, Preslee was given a Priesthood blessing. She was told there were angels surrounding her in the canal and they continued to watch over her in the hospital room. That's why Pat and I believe she didn't have a single scratch on her perfect little body. A true miracle, after looking at the canal last week.
Then on Friday, Pat and I faced our fears together as the family gathered to eat dinner outside. We let Ledger play in the backyard with his cousins. The nervous glances Pat and I exchanged throughout the night became of comfort, knowing I wasn't alone worrying.
As I was chasing Ledger across the lawn, I couldn't help but think about chasing his older sister, just minutes before we left for the movies.
I can still hear her giggling.
I realized I'll always be a wreck in that backyard, and nervous around water in general. But hopefully it will get easier with time. It's been a big week for me, and if it's alright to say, I'm definitely proud of myself for standing triumphant over my fears.