Ever since we stepped off the plane from Cancun it's been cold. Autumn has arrived and I can't wait for the leaves on our big walnut tree to change colors.
For me, autumn means two things. Starting school (this Thursday)and saying goodbye to sno cones. Even though I eat very few during the summer, (after spending 6 summers inside a small shack I've eaten enough to last me a life time) I tend to crave them all winter long. As I closed up shop today, I made one more sno cone to help get me through the next eight months -
Tiger's Blood
. I stood back and took a long look at my shack. After I critiqued what I could to do to fix it up next year, I thought back to the highlights for the shack this summer-
Summer didn't officially arrive here in Idaho until the very end of June. We had a slow start. Nobody wants to buy sno cones when it's snowing outside... So we spent the first month and a half in winter clothes and worked with numb fingers. :)
I bought an expensive umbrella for the table and planted flowers. We were able to keep them alive! Good job girls.
Getting hit on by the sophomore boys... Nobody seems to believe that I'm 22. Sometimes I'm not quite sure how to take it. :)
Waking up to a call from the Rigby Police station in the middle of the night. We had some punks break all the windows. They stole my week old cash register and some supplies. Luckily they didn't get any money. We had to close until we could get the windows fixed. We never did catch the scoundrels.
Taking Pres there for walks. She was born a Sno Shacker. When I was pregnant she would kick to the rhythm of my foot tapping the pedal. I started her off with plain ice and gradually added flavor. She loved cotton candy. Once she finished the ice she'd start eating the cup.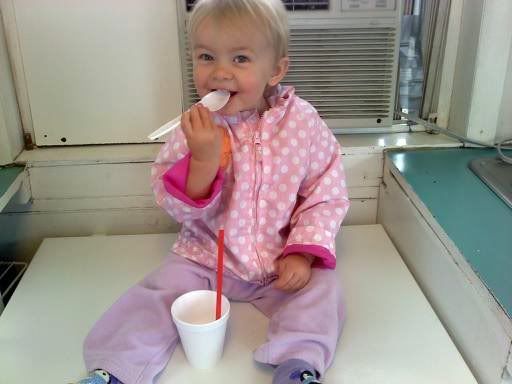 Then the accident happened. It took about everyone we knew to keep the shack running, but they did it. We are so very grateful. Nobody knew how much work goes into a little Sno shack :)
When I came back I thought working would be great. I hoped it would keep me busy. That lasted about a week and I just couldn't do it anymore. Luckily I hired some of Rigby's finest and my girls stepped up and took over.
Thank you Rigby for putting up with the chaos. Thank you for all the donations you so willingly gave us. There were days when the donations almost matched the deposit.
Intermountain Paper Company
donated hundreds and hundreds of cups to us. The owner Mark is a great guy. I know people traveled from all over to help support us. We feel so lucky to call South Eastern Idaho our home.
See you all next year, a
Tiger's Blood
will be waiting.
P.S. I am so excited that we made it through the whole season before the construction closed our front down!